Pregnancy is one of the most rewarding experiences in life, but the nine months leading up to giving birth has its challenges. Some of the most common are the normal aches and pains that comes with pregnancy, but it doesn't have to be that way.
Benefits of Prenatal Massage
Stimulating a Sense of Prenatal Vitality and Health
Prenatal massage is a form of holistic health care that specializes in therapeutic approach tailored to provide relief from the discomforts associated with pregnancy. This gentle, yet effective treatment primarily targets joint alignment and body contours, offering relief from common pregnancy-related aches and pains.
Prenatal massage also aids in reducing swelling during pregnancy, contributing to overall prenatal well-being. By promoting muscle strength, enhancing circulation, and alleviating prenatal stress, it stimulates a sense of prenatal vitality and health that helps improve yours, and your baby's health.
Schedule Your Ocala Prenatal Massage Online
Prenatal Massage
60 Minutes
Pregnancy, or prenatal massage is tailored to cater to the unique requirements of expectant mothers. It involves the use of specially designed massage tables, cushions, and comfortable side-lying positions to ensure that no pressure is applied to the abdomen.
A Prenatal massage can be administered by therapists after the first trimester. By employing a range of techniques customized for expectant mothers, prenatal massage seeks to alleviate the discomforts commonly experienced during pregnancy and offers numerous significant advantages.
$95
Mommy-to-be Spa Day Package
95 Minutes
Indulge in our special package designed for expectant mothers, which comprises a 60-minute prenatal massage, a rejuvenating 20-minute holistic mini facial, and concludes with a comforting hot towel treatment for your hands and feet, followed by a relaxing 10-minute scalp and neck massage.
This pampering experience ensures that our expectant mothers leave feeling nurtured and revitalized, ready to embrace the day ahead!
$195
Someone's Been Talking About Us
How People Rate Our Ocala Prenatal Massage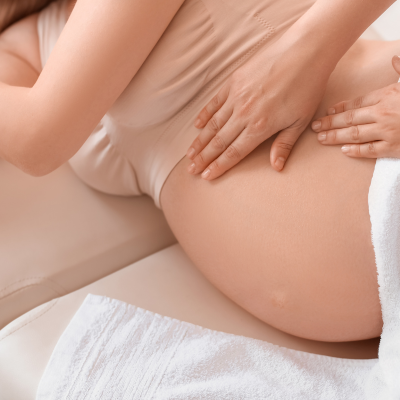 The short answer is YES, but it's highly recommended to only consult licensed massage therapists with experience with prenatal massage therapy.
Some of the things that all prenatal massage therapists should consider include:
Momma does not lay on her stomach

Momma does not lay flat on her back

Essentials oils contraindicated during pregnancy are avoided

Areas like the abdomen and ankles should not be massaged
Always consult your physician before seeking a prenatal massage, especially if you're high risk.
Browse Our Award-Winning Holistic Wellness Services
Every treatment is specifically designed to offer a unique experience, using powerful massage sequences, chiropractic, acupuncture, organic skincare services, yoga and the most potent holistic alternative therapies available in the world today.
See for yourself why we've been voted Ocala's Best of the Best for four years straight.
Massage & Day Spa Addon Services
Our award-winning addons can be purchased at checkout with any massage or day spa service. Some of our best-selling addons include:
Gua Sha Facial
Organic Eye Pillow
LED Anti-Aging Phototherapy
PEMF Therapy
Salt Foot Scrub & Hot Towel Wrap
Hot Towel Wrap
Aromatherapy
Foot Massage
Aromatherapy Scalp Massage
Kansa Wand Massage
Scalp Massage
Sometimes, we just know a great offer when we see it.
We're talking about an introductory 60-minute massage for only $1/minute and an amazing price on our best-selling Be Well Signature Massage.
Indulge yourself, or someone you care about
Introductory Facial
30 Minutes
Introductory Special allowing new clients to treat themself to a refreshing customized facial designed to complement their skin.
$95
Introductory Massage
60 Minutes
Introductory Special allowing new clients to treat themself to a relaxing & therapeutic massage.
$60
Be Well Signature Massage
60 Minutes
In-house signature massage that uses therapeutic touch, along with our therapist vast array of knowledge of the healing arts.
$100
Pamper your loved ones with the gift of health & wellness.
For family, friends or employees this is a lovely way to introduce someone to the benefits of massage, or just to help them get some much-needed relaxation as well as a great way to show your gratitude.