Swedish Massage Ocala, FL
Swedish massage therapy stands out as the most renowned and universally embraced form of therapeutic massage, and its popularity is well-deserved.
This method of massage prioritizes muscle relaxation, specifically targeting surface-level muscles (as opposed to the deep-tissue massage's emphasis on connective tissues) while also enhancing blood circulation.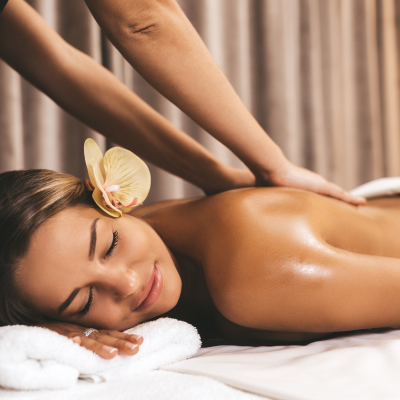 Benefits of Swedish Massage
Still on the fence on whether a Swedish Massage is right for you? Explore the advantages listed below to understand why opting for a Swedish massage could be an excellent decision for your health & well-being.
Below are the top benefits of a Swedish Massage:
Relieve stress

Relieve aches and pains

Lower blood pressure and heart rate

Helps decrease pain during labor & delivery

Decreases arthritis related symptoms

Reduce headaches

Accelerates recovery post-surgery or injury
Schedule Your Ocala Swedish Massage Online
Swedish Massage
60 Minutes
In a Swedish massage, a soothing massage oil or cream is skillfully applied using gentle yet firm strokes. This technique is designed to induce relaxation, alleviate muscle tension, and generate various health advantages. This timeless massage experience is crafted to alleviate your stress and gently guide you into a state of tranquil relaxation.
$95
How People Rate Our Swedish Massage in Ocala, Florida
Swedish Massage Vs Deep Tissue Massage
The Swedish massage originated in Sweden and is a technique that incorporates five standards strokes. These are:
Vibration – The massage therapist uses their palms or fingertips to shake your body muscles rapidly

Friction – The therapist boosts circulation by generating heat through circular rubbing motions on the superficial layers of muscles

Effleurage – The massage therapist uses long gliding strokes to determine the problem areas

Tapotement – The expert uses fast tapping motions to relax the tense muscles in your body

Petrissage – The massage therapist releases the tension in your muscles by kneading your muscles
Differences Between Swedish and Deep Tissue Massage
Many individuals often ponder the differences between Swedish and deep tissue massages. These two therapeutic massage techniques offer unique sets of health benefits.
While both share certain techniques, they have several key differences:
Pressure Intensity
The level of pressure applied during a session is the primary difference between a Swedish and deep tissue massage.
Swedish massage focuses on relaxation and enjoyment, using light, smooth strokes delivered by the therapist's hands and fingers.
Conversely, deep tissue massage seeks to alleviate muscle tension, utilizing firmer strokes with increased pressure. Therapists employ their forearms, elbows, thumbs, and hands to reach the deeper layers of connective tissues.
Targeted Areas
Swedish massage aims to release tension across the neck, abdomen, back, shoulders, and the entire body which helps improve blood circulation.
In contrast, a deep tissue massage focuses on deeper muscle layers, particularly to areas of the body more prone to injury or discomfort.
Techniques
Another difference between Swedish and deep tissue massage lies in their respective techniques. Swedish massage employs lengthy, gliding strokes known as effleurage to induce relaxation by stimulating circulation. It also incorporates friction to ease tension within tendons and fibers.
On the other hand, a deep tissue massage employs petrissage or kneading motions to address specific areas, particularly around trigger points, that help relieve pain. Additionally, massage therapists utilize tapotement or tapping in select areas such as arms or legs which helps improve range of motion in tight muscles or joints.
Ultimately, both massage types provide a numerous physical and psychological advantages, including:
Improved blood circulation

Decreased stress

Decreased pain

Improved joint flexibility
It's recommended to have a conversation with your massage therapist beforehand to discuss your individual needs. This enables them to apply techniques tailored to your unique circumstances.
Swedish Massage vs Deep Tissue Massage
When deciding between Swedish (or traditional Swedish massage) and deep tissue, the choice you make should be tailored to what you're looking for. If you're looking for a calm, soothing experience, a Swedish massage, with its gentle strokes, is the ideal option.
On the other hand, deep tissue massage is more suited for individuals in need of relief from muscle knots and chronic tension.