Craniosacral Massage Ocala, FL
Are you aware that the muscles in your scalp play a crucial role in shaping your facial expressions? These muscles may benefit from from a craniosacral massage which causes them to naturally relax, particularly on days when you're feeling stressed.
This gentle, noninvasive massage technique focuses on the bones and muscles of the head, spinal column, and sacrum, which helps alleviate stress and discomfort.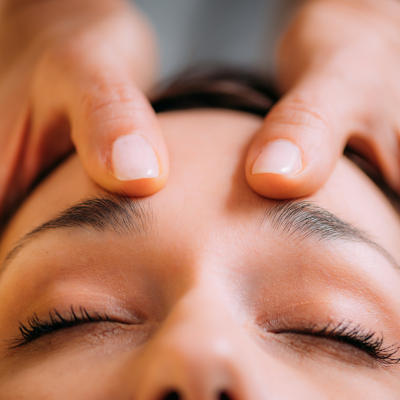 Benefits of Craniosacral Massage
Craniosacral massage is designed to realign bones and alleviate muscle tension, making it a valuable addition to your upcoming session. Adding this therapy can contribute to reducing stress, relieving neck and back , and even help alleviate migraine headaches.
If you're not sure, give us a call and we would love to help. We believe We can create a custom massage therapy session, only for YOU.
Schedule Your Ocala Craniosacral Massage Online
Craniosacral Massage
60 Minutes
During a craniosacral massage therapy session, your therapist employs a delicate touch, using their hands to assess the craniosacral system. They gently examine different areas of your body to gauge the ease of motion and the rhythm of cerebrospinal fluid.
Subsequently, specialized techniques are applied to alleviate any restrictions in tissues that may impact the craniosacral system. This process promotes the fluidity and equilibrium of the cerebrospinal fluid, which some consider to be the cornerstone of overall bodily healing and well-being.
$119
How People Rate Our Craniosacral Massage in Ocala, Florida
What to Expect During a Craniosacral Massage Session
As Craniosacral Massage Therapy (CST) is a gentle and non-invasive practice, you should not anticipate any pain during the session, but it is possible to experience mild discomfort as your body responds to the treatment. 
Our clients remain fully clothed during the 60-minute session. Before and after each session, we talk about your expectations and experiences to assure your needs are being met. This is your opportunity to provide frequent feedback and express any questions or concerns allowing you to fully relax during the treatment.
Throughout the session, the massage therapist will gently place their hands on various parts of your body to sense the pulses of cerebrospinal fluid. This allows them to address and alleviate any blockages detected, which ultimately provides comfort.
After the session, clients often leave with enhanced mental clarity and a revitalized sense of physical presence.