Deep Tissue Massage Ocala, FL
If you're suffering from chronic muscle tension far below the surface of the skin, then it's time for a deep tissue massage. 
A deep tissue massage specifically targets adhesions which are bands of painful, rigid tissue in muscles, tendons, and ligaments. These adhesions block circulation and cause chronic pain, decrease mobility, and cause inflammation.
Deep tissue massage, or sometimes called Deep Trigger Point Therapy, works by physically breaking down these adhesions relieving pain and helping restore the body's natural movement.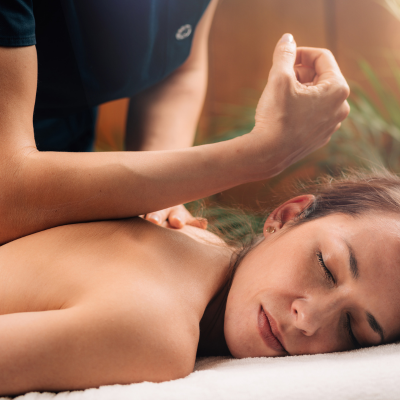 Benefits of Deep Tissue Massage
It's More than Just Relieving Aches and Pains
A study published in the Journal of Alternative and Complementary Medicine even demonstrated a reduction in blood pressure after just a single session of deep tissue massage.
If you're aiming to rehabilitate an old injury or seeking relief from minor aches and pains, consider discussing the incorporation of deep tissue massage with your massage therapist during your next appointment.
Below are the top benefits of a deep tissue massage:
Improve circulation

Relieve minor aches and pains

Decrease inflammation

Improve range of motion

Improve posture

Reduce stress

Reduce headaches

Accelerates recovers post-surgery or injury
Schedule Your Ocala Deep Tissue Massage Online
Deep Tissue Massage
60 Minutes
Deep tissue massage is a specialized method crafted to alleviate intense tension by targeting muscles and underlying connective tissues. It not only enhances your range of motion but also aids in the healing of underlying injuries. This technique involves the precise application of firm pressure, penetrating deeply into the connective tissues and muscle fibers, effectively releasing trigger points.
$105
How People Rate Our Deep Tissue Massage in Ocala, Florida
What to Expect of a Deep Tissue Massage
Prior to your deep tissue massage session, your massage therapist will engage in a comprehensive discussion, addressing your objectives, medical history, and any specific concerns you may have. This exchange of accurate information lays the foundation for a tailored and effective session.
Deep tissue massage can occasionally induce discomfort since it targets deeper muscle layers, but your therapist will adeptly regulate pressure and technique to ensure your comfort. It's essential to maintain proper hydration by drinking plenty of water post-massage.
Throughout the session, your therapist will employ deliberate, firm pressure and gradual strokes, using hands, fingers, and elbows. They may also integrate techniques such as stretching, kneading, and cupping. It's normal to experience some soreness in the aftermath, which typically subsides within a day or two.
Towards the conclusion of the session, your therapist will inquire about your comfort and offer guidance for managing any lingering discomfort. Your overall experience should be akin to a sensation of "pleasurable challenge" rather than "distressing pain," leaving you with a sense of accomplishment after each session.