Harmony Massage Ocala, FL
A Harmony massage at Be Well Holistic Massage Wellness Center, P.A. seamlessly integrates components aimed at harmonizing the body, mind, and spirit. I've observed that when clients achieve a state of profound relaxation, letting go of tension and stress, they often emerge from the treatment with a profound sense of peace and rejuvenation.
Our clients have shared that their experience feels whole and imbued with serenity
Not Just Another Massage
This sacred offering merges the advantages of hands-on massage with energy work, culminating in a profound and exquisite healing journey. It aims to realign the physical, emotional, mental, and spiritual aspects of one's being.
We've meticulously curated an array of elements from diverse modalities, including Reiki, Aromatherapy, Reflexology, Remedial, Womb, Abdominal, Thai, and Swedish massage, to craft a supremely potent and transformative experience beyond imagination creating a truly, one of a kind massage.
Schedule Your Ocala Harmony Massage Online
Harmony Massage
60 Minutes
This holistic journey offers a harmonious fusion of massage, sound therapy, Reiki, and aromatherapy. Utilizing tuning forks to reestablish the body's electromagnetic equilibrium, our approach incorporates Reiki techniques with a particular emphasis on the heart's zero-point chakra, Marmas, and essential meridian points.
Aromas both grounding and uplifting are employed to release emotional burdens, fostering a renewed sense of equilibrium and serenity. The two tuning forks wield the capacity to unlock energy pathways, providing relief from both physical and emotional distress.
$160
How People Rate Our Harmony Massage in Ocala, Florida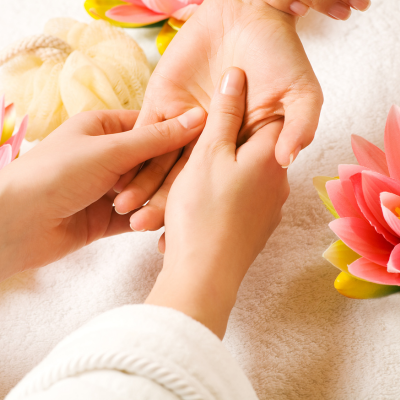 Benefits of a Harmony Massage
Harmony massage, also called tuning fork therapy, is administered by skilled tuning fork therapists who provide comprehensive treatments to address a range of issues, including:
Chronic pain

Fatigue

Hypersensitivity of the nervous system

Headaches

Pain stemming from physical trauma

Insomnia or poor sleep quality

Joint discomfort

Muscle cramps

Digestive ailments
Beyond its intrinsic efficacy, harmony massage also serves as a potent complement to other healing modalities such as physiotherapy, massage therapy, chiropractic care, and psychotherapy.
Sound's unique capacity to engage with the subtler dimensions of our being facilitates the release of stagnant energies.